We get it. The economy sucks, nobody has any money, and there you are, trapped in your cubicle, or stuck behind your retail counter, or slinging burgers, or…insert your own mind-numbingly soul-sucking job here.   You'd be on Prozac if you could afford it, but for now, four Advils and a shot of Jack Daniels will have to do.
Well, buck up, buddy.  It could be worse.  Read on for the lowdown on ten jobs we can pretty much guarantee suck way, way more than yours (unless, of course, one of these is already your job.  Then we're very, very sorry). 
1.  Fish Gutter
Have you ever gutted a fish?  It's slimy, stinky and generally unpleasant.  Like really bad sex.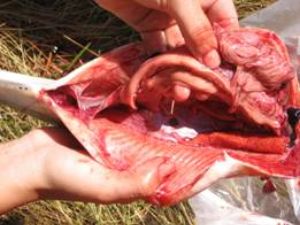 Mmm, them fish guts shore look tasty!
Now imagine doing it over and over again, hundreds of times a day, for eight long hours.  Well, you've just entered the glamorous, action-packed world of a Professional Fish Gutter, also known by the oh-so-descriptive moniker of "Slime Line Worker!"  All day long, five days a week, Gutters slice fish open, yank out their slimy, stinky innards and toss them (the fish, not the innards, dummy!) down an assembly line.  And hey, who wants a cubicle when you can stand in a freezing fish processing plant on a floor covered with fish blood and discarded guts?   Pretty much anyone with an operational brain.
2. Preschool Janitor
You know what they say — the children are our future.  Unfortunately, somebody has to clean up after them now.  Enter the Preschool Janitor, whose challenging duties including removing globs of dried play-doh from threadbare industrial carpet, removing a combination of apple juice and finger paint from same, and  removing sticky saliva from toy cars, building blocks and miniature plastic people.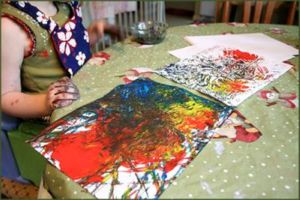 Later, you'll get to clean this off the carpet!
The highlight of this particular job is, of course, restroom duty.  As any mother of a pre-schooler will tell you, accidents happen.  And, more often than not, they tend to happen here.  And most of it doesn't make it into the toilet.
3. Whale-Feces Researcher
And you think you have to deal with too much shit at your job.  If you want to learn about the health of a whale – say, if it's pregnant, or sick, or you really, really want to know what it had for lunch that day – there's one sure-fire way to find out:  you look through its crap!    The Whale-Feces Researcher gets to embark on this Fantastic Voyage every workday as they sift through Shamu's processed dinner in search of gold.  Only they don't find gold.  They find poo.  And occasionally Pinocchio.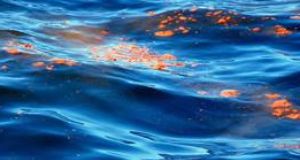 Yes, these are actual whale feces.
But it's not all bad.  You get to learn new things and uncover interesting facts.  For example, who knew whale droppings were greasy and orange?  Your local Whale-Feces Researcher, that's who!   Go ahead and introduce yourself to him.  Just avoid shaking hands.
4.  Golf Ball Retriever
Have you ever gone to a driving range and wondered, "How do all those golf balls get from all the way out there to back here?"    It happens thanks to the help of a very special person with a very special job – the golf ball retriever.  Whether in a cart or on foot, rain or shine, the Golf Ball Retriever spends his days out in the fresh air, picking up hundreds and hundreds of golf balls.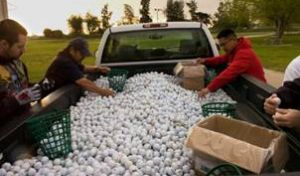 Trust us.  It's not as much fun as it looks.
Wait.  Did we say "his?"   Sorry, our mistake, some of the people in this line of work aren't men.  They used to be, but they didn't get out of the way of the Titleist heading for their scrotum at 150 mph.
5.  Theme Park Mascot
The next time you're at a theme park on a sweltering summer day, drop to your knees and thank the good Lord above that you are not a Theme Park Mascot.  Often drawn to their jobs by the lure of unlimited log flume rides and the opportunity to be kinda, sorta in show business, mascots are instead faced with long hours of limited vision, scorching heat and crotch level assaults by underage hooligans.  You wear a giant 200 pound mouse suit on a 100 degree day and see how you like being a fried rat!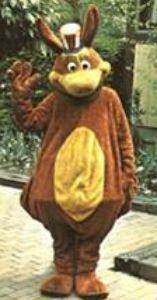 Admit it – you'd probably kick your own ass if you saw you in that outfit!
Fun fact – overheated mascots are known to vomit inside their suits.
6.  Rent-A-Cop
Slip into that uniform, and feel the rush of power wash over you.  The blue, short-sleeved, collared-shirt with the official-looking insignia on the shoulder.  The shiny, silver badge.  The walkie-talkie in your pocket.  You look almost exactly like a genuine, bona-fide officer of the law. 
But you're not. 
In fact, if any real crimes happen anywhere near you, you'll probably cry for Mommy, wontcha?  No wonder most security guards are instructed to call for the real law rather than do anything themselves.  So they're about as useful as a plane that can't fly, a car that won't start, and the U.S. Congress.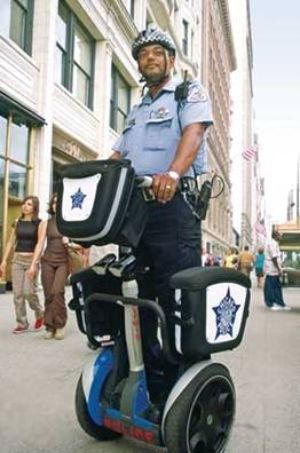 Stop…or I'll roll over you!
But it's not all bad.  You get to ride around on a Segway!  How cool is that?
(Um…not.)
7.  Potato Chip Picker
Ever wonder why, when it comes to potato chips, you "can't eat just one?"  Thank our good pal, the Potato Chip Picker.  This rewarding career consists of standing next to a conveyor belt in a sweltering room looking for, for lack of a better term, "bad chips."  In order to do the job properly, you must first master the following steps:  Step 1.   Spot hot chip.  Step 2.   Remove hot chip.  Step 3.  Repeat for eight hours.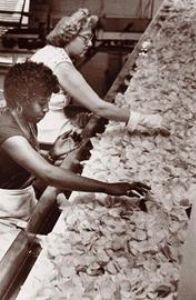 Iris picks a winner.
Erin Brockovich is currently working on a class-action law suit for Chip Picker victims overcome by Doritos dust.
8.  Hazmat Diver
Love to swim?  Love sewage?  That was probably a "Yes," and a "No," but just in case it wasn't, you might consider a career as a Hazmat Diver.  These hardy souls can be found splashing through everything from oil slicks to animal waste.   Popular Science, who also ranked this as one of the worst jobs ever, tells the tale of a diver who had to swim through a lake of pig poo, urine and needles to retrieve a dead body.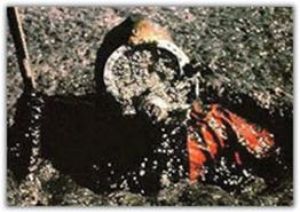 C'mon in, the pig urine's fine!
Still think your desk job is bad?
9. Rodeo Clown
Imagine being a bullfighter.  Now take away the suave, sexy image.  Get rid of that cool, red cape.  And finally, lose that sword you use to protect yourself.  As a matter of fact, make yourself look as ridiculous as possible with absolutely nothing to protect yourself against a very angry horned animal that weighs half a ton.
Congratulations.  You are now a Rodeo Clown.
A Rodeo Clown's job is to disarm an angry bull not with violence, but with humor.  Which can be a real challenge, seeing as bulls aren't known for their party jokes.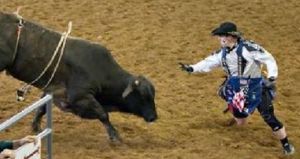 Hey, didja hear the one about…AHHHH!  HELLLLP MEEEE!
And Rodeo Clowns aren't known for living to a ripe old age.
10.  President of the United States
Sure, you get paid room and board; you get the helicopter, the plane and the entourage of tough guys in dark glasses – not to mention the insane rush of power that comes with being able to blow up anybody who messes with you just by pushing a button.
But you also get a tanking economy, the health care crisis, global warming, North Korea, Iraq, and the great feeling that comes from knowing, at any given time, millions of people probably hate your guts.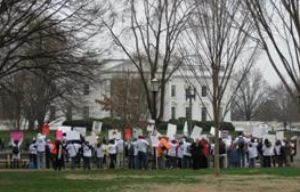 Why the Presidential Bedroom has no windows
Which brings back that whole button-pushing option…
Looking for a job, check out our local job listings.
Related Posts
Share this Post
Share
|